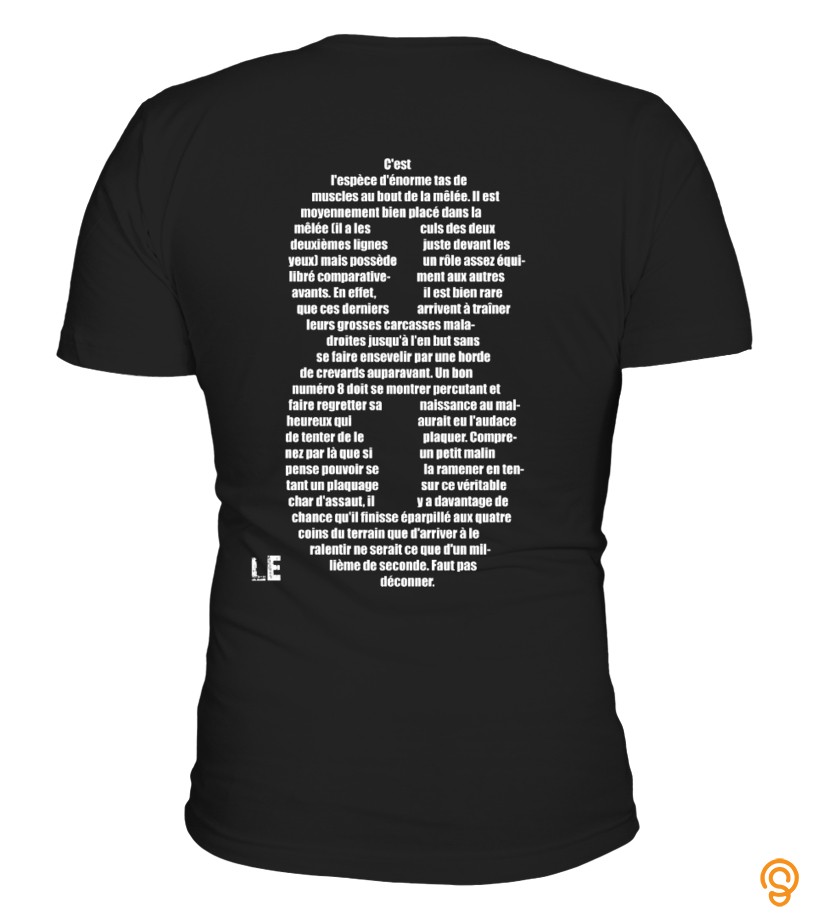 N°8 Troisième Ligne Centre Le "8"
Troisième ligne centre, le "8" dont il reprend souvent la forme :
C'est l'espèce d'énorme tas de muscles au bout de la mêlée. Il est moyennement bien placé dans la mêlée (il a les culs des deux deuxièmes lignes juste devant les yeux) mais possède un rôle assez équilibré comparativement aux autres avants. En effet, il est bien rare que ces derniers arrivent à trainer leurs grosses carcasses maladroites jusqu'à l'en but sans se faire ensevelir par une horde de crevards auparavant. Un bon numéro 8 doit se montrer percutant, et faire regretter sa naissance au malheureux qui aurait eu l'audace de tenter de le plaquer. Comprenez par là...etc

Buy it now
ITEM DETAILS
100% Satisfaction Guaranteed
Safe & Secure Checkout
VERY High Quality Hoodies & Tees
Buy this shirt: Via Teezily shirts
Last updated: 18/09/2019
It's 100% printed, made, and shipped from the

USA !
Enjoy your shopping now.
We guarantee to provide high quality as described in the detailed description of your favorite shirt.
All of the shirts are printed with love and eco-friendly, and non-toxic ink. Therefore, you should get the most comfortable shirts ever that is friendly to your health.
You can take a quick look at the size chart here:
S 27 36
M 28 40
L 29 44
XL 31 48
Worry about shipping? Shining Tee is proud to have good shipping policy with quick shipping and good product condition maintenance. Normally an order takes from 5 to 10 days to get delivered successfully. However, it depends on the product, time of shipping and some other criteria. Please check the estimated arrival time as thoroughly as possible.
Thanks for looking!